Zippers are one of the most common closures for clothing, bags and purses. Since the 1930s, zippers have held strong as fashion's most popular fastener. Considering the history and evolution of the zipper, it's no wonder why zippers exist as some of the most commonly utilized means of closing the edges of nearly any type of flexible material imaginable.
Today, zipper varietals are virtually endless. It commonly used conventional zippers, invisible zippers, and separating zippers. These types of closure keeps your contents safe and secure while allowing quick and easy access to the contents.
Sliders
From tents to jackets and packs it seams like zippers hold all favorite outdoor gear together. A zipper without a proper slider is rendered useless, regardless of its utilitarian function or aesthetic appeal.
The selection of sliders is dependent on lots of factors, including the type of zippers, zipper gauge, type of fabrics, application scenario, just to name a few. Basically, sliders can be segmented into three categories based on the types of zippers available, covering metal sliders, plastic sliders and nylon sliders. Below is the application scenario of metal types of sliders based on the zipper gauge and locking mechanism.
Slider Types / Gauge
#3
#3.5
#4
#5
#8
#10
Non-Lock
The pull-tab does not lock at any position on the body. No locking mechanism.
•
•
•
•
•
•
Automatic
The lock automatically locks when no force is placed on the tab-pull.
•
•
•
•
•
•
Semi-Automatic
When the pull-tab is lowered will be locked; It's raised will be unlocked.
•
 
•
•
 

 

Pin Lock
Pins on the pull-tab work on the elements and lock.
•
 
•
•
 
 
⚠ The gauge of metal sliders ranges from #3 to #10. Non-lock and Automatic sliders can be paired up with metal type of zippers in different gauges. Pin lock and Semi-automation sliders are suitable for small-sized zippers.
Product Demonstration Examples
At Buttoncare ®, zipper sliders are available in numerous styles including short and long tabs, double tabs, single and dual functioning. The sliders are available in hundreds of standard colors, styles and finishes.
We produce many different types of styles, and it would be impossible to fully list the limited range here. Therefore, here are a few of the best examples to help you visualize our traditional and contemporary styles. These demos are both practical and stylish.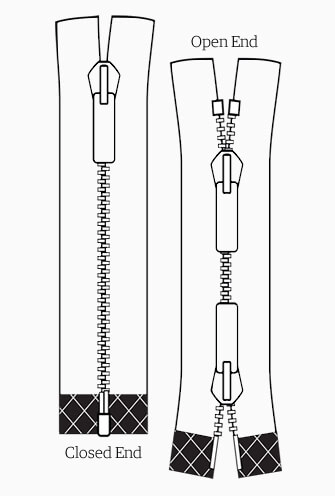 Zipper Closed End vs. Open End Sliders
Sliders to be paired up with closed end zippers, open end zippers and two way open end zippers are different from each other. Closed end sliders feature lower and smaller tape gap, which ensures the proper performance of those zippers that are attached to the luggage and bags when they are subjected to special applications, and prevents the teeth aligned on both sides from disengaging unexpectedly when the zipper is zipped up. The larger the tape gap, the higher the chances of disengagement of both halves along the zipper chain. In comparison, open end sliders require higher and larger tape gap for the easier combination of the insertion box and pin to lock both sides into place. For two way open end sliders, the top stopper goes deeper into the inner cavity.
Pullers
It is the ideal things to help pull zipper puller into place; Zip it to backpacks, purses, jackets and more to show off brand or message. Our pullers are a wide variety design choose from, with many designed for specific applications. There are various shapes & specifications of this little part, please refer to the following some styles.
⚠ Before using, above examples may cover the trademark for an object having practical utility; the object that is substantially similar to the claimed in a design cannot be reproduced, used or similar to your design. Important: A similar design that you may be violating the trademark infringement.
▲ As increasing product variety increases the requests of customers finding different styles that match with their needs. Above products may be changed as a result of the rapid action modification of and new items caused.
Tapes
A zipper is only as good as the tape used to support it. That's why Buttoncare offers an extensive selection of quality tapes. From woven tapes of high quality 100% texturized polyester for the utmost in color retention and durability to specialty and dyeable tapes to blend seamlessly with your design, we offer a large selection of tested and proven tapes to work with any design application.
We Provide One Stop Solutions On Zipper Business
Our quality tape is engineered for various applications from apparel to rugged outdoor use and our sliders are available in a variety of finishes and designs; from no-pull sliders to big-pull sliders..
Under the quality-based between corporation customers and us, our zipper tape is produced from Asia renowned manufacturers. Our alliance that provide meticulous craftsmanship, consistency, quality and trustworthy zipper tape and assembled by their professional factory.
We specialize in custom zipper slider and puller manufactured components and sub-assemblies for any projects. Custom dye-to-match tapes and zippers can be quickly created to match the color of any sample.
Contact us to learn more about our custom component manufacturing.