OVERVIEW
The brand of Buttoncare was established in year 2006 and formed by professionals with a huge experience in the garment and leather metal ware businesses. This makes us proud of our quality of services and reliability. Despite the fact that we are a young company but we served over than 25 countries, including some of the world's largest and well-known listing companies. We have an extensive global network of sales which are constantly expanding.
Our expertise in all traditional fastener product takes an important part in range of quality, but no less important is knowledge of all innovative factors and conditions, which driving us success through true product excellence.
Business Structures
As a innovation pioneer, our concept is to be classified marketing are so that we can structure its operations into 2 distinct businesses built around market needs.
• Corporation Customers : We can still here because we were able to adjust to a changing environment. That adjustment required us to improve the quality of our product. We expect to be responsive to these corporation customers needs, as well as maintain the flexible capabilities;
• Retail Customers : Provides the fasteners and innovative tools using in different type of retail levels. We fulfill the personal needs of our consumers while appealing to the desires of retail marketing.
In facts, some of large-scale listing companies have forcibly occupied most market share in global market. Sadly, there is no any breakthrough progress on the professional advise and personal skill services, hence, our aim is to provide a personalized and professional skills are our commitment to global customers.
Production & Responsibility
We are committed to ensuring the highest standards of social responsibility whatever our products are made. As a result of compliance monitoring and the subsequent corrective actions, working conditions have improved at many facilities across the supply chain.
WE RELEASED THE PRODUCTION RIGHTS CONTRACT OF BUTTONCARE ™ TO ASIA MANUFACTURERS.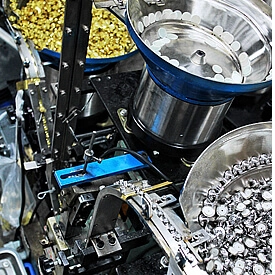 Product Production
It is the manufacturing and assembly process involves converting raw materials into components.
Surface Finishing
It is the coating process contains electroplating / enameling surface finishes onto components.
3rd Party QA / QC
We assigned to perform third party certified inspections in the authorized test laboratories.
In-House Audit & Training
It can bring alliances up-to-date with the internal audit methodologies and training techniques.
Our Industry Is At Crossroads
Most of our alliance factories are of approved by international quality standards, with recognized by professional management and production to complete our products. They ensure safe working conditions, treat their employees with respect and dignity, and establish and maintain environmentally responsible manufacturing processes.
We realize there are limits to what we can achieve independently. We hope it will encourage others to join collaborative efforts. Helping to mutual support efforts to move to common standards, greater collaboration, where legal, and greater transparency, which in turn fosters the development of a metal wares marketplace where responsibility and competitiveness go hand-in-hand.
Prevention & Control In The Work Environment
In addition to audit procedures, we communicates the importance of social responsibility through regular business reviews. During this process, our executives review items such as audit results, audit cooperation, progress on corrective action plans, key performance indicators, and overall compliance status. We are expanding our education program for our staffs, training them to identify potential Code violations.
We believe training is most effective and the results more sustainable when our alliance factories communicate directly to their workforce. Our corporation collaborates with them to train workers on their rights and to train management and supervisors on their social responsibility obligations. We continues to support them in enhancing and extending their capability to deliver internal factory training on occupational health and safety, work-related prevention, and other social responsibility topics.