Snap fasteners are press buttons used mainly in clothes but also in leather goods. Each set consists of two parts, a male and female part which fasten together when pressed.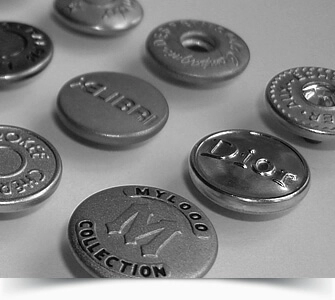 Similar but Different
Since ready made products are getting increasingly popular in the market, there is always a demand for the snap fasteners. As snap fastener is a common device and widely used now a days also, the demand is always on the increase. Therefore, they commonly include stainless steel, brass and steel materials for used in different applications. Although the bottom components are very similar, the top piece can also be designed by various styles and finishes.
Our extensive manufacture of many different styles has been developed over many years of customizing for customers. In addition to the general selection of finishes, we manufactures unique top pieces, and every piece of style is carefully designed and made.
Product Demonstration Examples
We manufactured in many different types of style that can not be listed completely out of limited range herein. For this reason just a few, the following best examples can help give you a better intuitive grasp of the tradition and modernity styles from us. These demos with both practical and fashionable functions that come close to expectating in the market trends.
⚠ Before using, above examples may cover the trademark for an object having practical utility; the object that is substantially similar to the claimed in a design cannot be reproduced, used or similar to your design. Important: A similar design that you may be violating the trademark infringement.
▲ As increasing product variety increases the requests of customers finding different styles that match with their needs. Above products may be changed as a result of the rapid action modification of and new items caused. We appreciate it may take some time to get the necessary update information. Please contact us so we can provide further information and the solutions offer.
Click On : OVERVIEW