Depending on the industry, plastic snap buttons are a great alternative to steel snap buttons. They are still a versatile, durable product that fit a variety of applications. In fact, our plastic snap fasteners can be found in many different consumer products, ranging from baby products, garments and home care products to recreational equipment, sporting goods and much more. The key is that our plastic snap is the perfect choice for lighter load applications across a broad spectrum of industries.
With increasing demand for high-quality textile products, there is also increasing demand for better quality and durability testing of the plastic snap products so that we could provide the best quality to the customers. The physical performances of snaps can be determined in various testing ways, Our plastic snap set which can be broadly conformed to the major countries' safety regulation of holding & pushing strength, heavy chemical content, laundry & heat resistance of the MSDS suggested standard and CPSC (CPSIA), REACH (SVHC) compliance.
Reliable Quality
Utilizing our experienced in fasteners, we create only the quality plastic snap buttons on the market.
Under the quality-based between corporation customers and us, our plastic snap fastener series are wholly made in Japan, our partner that provide meticulous craftsmanship, consistency, quality and trustworthy plastic snap fastener made by their professional factory.
Example of Colors
The following colors of glossy and matte surface finishes can help enhance your understanding our basic color scope. Besides, we will be able to advise on the most appropriate solution for you particular application for details on how to order custom-colored. Please contact us so we can provide further information and the solutions offer.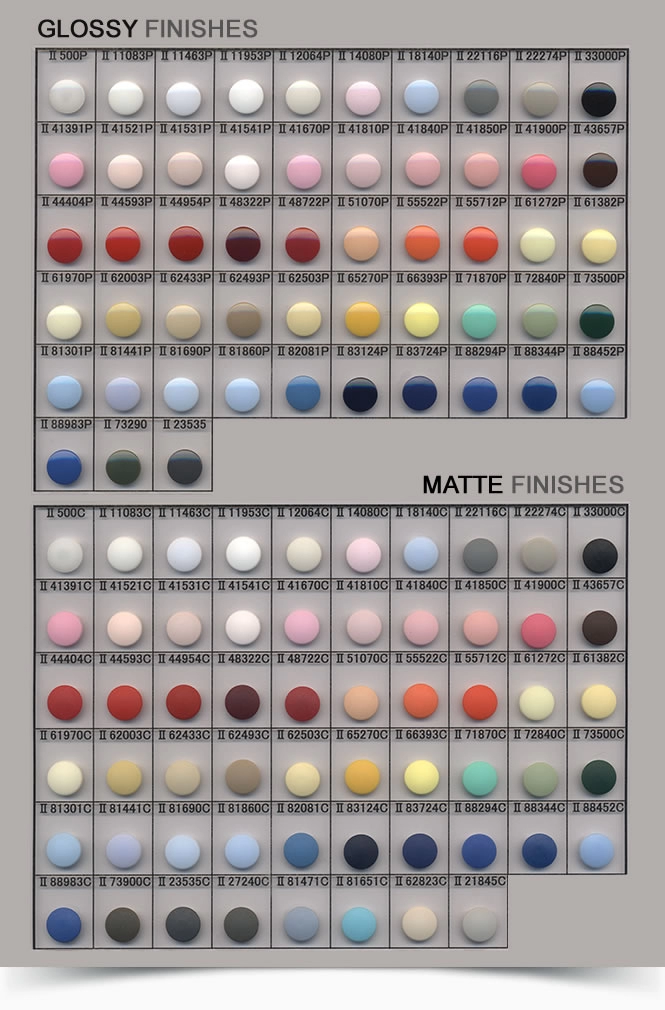 Click On : OVERVIEW