It may be small, but the perfect button can make a big difference to a garment. Sewing buttons are not just round or square but come in many different shapes and patterns. Unique, fashionable and decorative sewing buttons of pin craft fashion cover for every garment needs, and special category of fashion accessory.
Sewing Button divides spring pressed (Made of Brass) and non-spring pressed (Made of Brass or Alloy) styles. See the following Comparison of the structures.
Spring Pressed
Sew-On Snap : It is a round discs pinched through the fabric. It's made of two couples: the male stud couple and the female stud couple. Each couple has one front (or top) and rear (or bottom) side (the fabric goes in the middle).
Sew-On Covered Snap : It is a fabric-covered forms with a separate back piece that secures the fabric over the knob.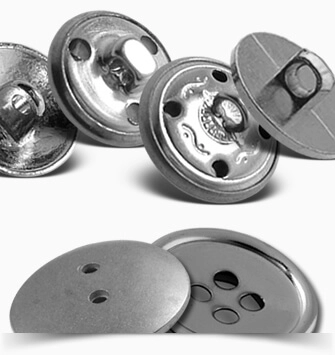 Non-Spring Pressed
Shank Button : A hollow protrusion on the back through which thread is sewn to attach the button. It may be a separate piece added to the back of a button, or be carved or molded directly onto the back of the button.
Flat Button : This sew-through buttons have holes through which thread is sewn to attach the button. It may be attached by sewing machine rather than by hand, and may be used with heavy fabrics by working a thread shank to extend the height of the button above the fabric.
For non-spring type, it owns a wide variety choice of patterns and finishes. To enhance the surface pattern colors, it can be processed by electroplated or painted. Our extensive manufacture of many different styles has been developed over many years of customizing for customers. In addition to the general selection of finishes, we manufactures unique designs, and every piece of style is carefully designed and made.
Some of the following designs can help give a better intuitive grasp of the tradition and modernity styles. Please see below to view some specifications & related product images.
| | |
| --- | --- |
| Models | Diameters |
| TINY | 12.5mm (20L ~ 1/2") ; 13mm (21L ~ 17/32") ; 14mm (22L ~ 9/16") |
| STANDARD | 15mm (24L ~ 19/32") ; 16mm (25L ~ 41/64") ; 17mm (26L ~ 43/64") ; 18mm (28L ~ 23/32") ; 19mm (30L ~ 3/4") ; 20mm / 20.5mm (32L ~ 51/64") |
| LARGE | 21mm (34L ~ 53/64") ; 22mm (34L ~ 7/8") ; 23mm (36L ~ 29/32") ; 24mm (38L ~ 61/64") ; 25mm (40L ~ 63/64") ; 27mm (42L ~ 1-1/16") ; 28mm (44L ~ 1-7/64") ; 30mm (48L ~ 1-3/16") ; 32mm (50L ~ 1-17/64") ; 35mm (54L ~ 1-25/64") ; 40mm (64L ~ 1-37/64") |
⚠ Buttoncare ® uses millimeter for the datum of measurement unit. A value of inch is an approximation figures convert from millimeter, which might not be equivalent to the actual measurements of millimeter.
▲ As increasing product variety increases the requests of customers finding different size specification that match with their needs. Above measurements might not precisely be shown as well as variation that might have already been affected. These measurements may be outdated or obsolete as a result of the rapid action modification of and new products caused. We appreciate it may take some time to get the necessary update information. Please contact us so we can provide further information and the solutions offer.
The following styles are only a small part of series. There are many shapes & specifications cannot entirely be listed in this page. Tell us how to reach your needs? Contact us, we will reach out to you shortly.
⚠ Before using, above examples may cover the trademark for an object having practical utility; the object that is substantially similar to the claimed in a design cannot be reproduced, used or similar to your design. Important: A similar design that you may be violating the trademark infringement.