Metal tag is a badge or sticker worn on the outermost clothing as a methods of displaying the brand logo or names for others to view. It may be attached to garments with adhesive or worn with the assistance of an attach or pin. Especially in metal name tags can be attached to various backings used to attach to the clothing of the wearer. Some tags are worn around the neck using a lanyard or necklace. Because they do not puncture clothing with pins, have become more popular for these tags.
From engraved brass tags, plastic tags, aluminum tags, stainless steel tags, dog tags, medical dog tags, military tags and name tags, to diamond engraved metal tags including brass tags, brass luggage tags and aluminum tags. Our metal identification plates and tags provide durable solutions for identification and traceability requirements in harsh environments.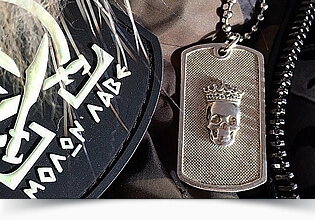 Buttoncare has the ability to work with a wide range of different materials in order to meet any requirements for industrial labels customer may have. There are available in several materials (including brass, steel and aluminium). We offer circular, square, rectangular and rounded edge shapes with one, two or no holes in a wide range of sizes. In addition, we have the ability to supply parts pre-marked: embossed, laser engraved or screen printed. It can be used for both product identification and promotional purposes throughout industry.
Product Demonstration Examples
We manufactured in many different types of style that can not be listed completely out of limited range herein. For this reason just a few, the following best examples can help give you a better intuitive grasp of the tradition and modernity styles from us. These demos with both practical and fashionable functions that come close to expectating in the market trends.
⚠ Before using, above examples may cover the trademark for an object having practical utility; the object that is substantially similar to the claimed in a design cannot be reproduced, used or similar to your design. Important: A similar design that you may be violating the trademark infringement.